About Illinois Young Birders
Illinois Young Birders was formed in March of 2010 as a special project of the Illinois Ornithological Society. Thanks to the IOS board, parents who work hard to get their kids to our field trips, and to our talented, gifted, and smart kids, ILYB became a great success in its first year.
ILYB is run and maintained by the IOS / ILYB Coordination Committee, young adult members of the Youth Advisory Council, contributing young birders, adult volunteers, and parents. These individuals all contribute to the fun and safe environment for young birders to interact and further pursue their passions for birding.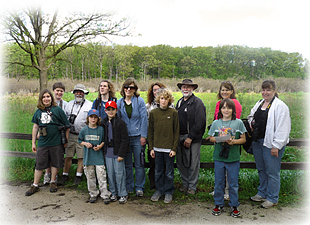 Illinois Young Birders exists to fulfill the following items as outlined in our mission statement:
Mission Objectives
To foster an interest in birding among young people in Illinois.
To offer a centralized community for young birders in Illinois.
To introduce members to possible career options related to birds & the natural sciences.
To offer and maintain a website (illinoisyoungbirders.org) and a discussion group (http://groups.yahoo.com/group/ILyoungbirders/) to facilitate communication among Illinois young birders and the adult birding community.
To regularly publish a club newsletter.
To provide the safest possible environment for scheduled field trips & other ILYB events.
To further awareness of conservation issues affecting Illinois birds.
To foster positive relationships with other Nature/Birding groups in Illinois.
To Have Fun!!!
Code of Conduct
The safety of minors attending events sponsored by Illinois Young Birders (ILYB) is the highest priority. All ILYB partner organizations, members, and field trip participants must abide by the Code of Conduct at all times.
End of Year Impact Statements
2017 End of Year Impact Statement
2017 exceeded even our lofty expectations with our second Young Birder Symposium. Read how our organization continued to grow and develop our young birders.
2015 End of Year Impact Statement
2015 End of Year Impact Statement
2014 End of Year Impact Statement
2013 End of Year Impact Statement
All Content © 2015 Illinois Ornithological Society / ILYB - All Rights Reserved