Field Trip Reports
Read field trip reports and view highlight photos from past trips taken by the Illinois Young Birders Club. Trip reports are written by both young birders and adults. If you would like to contribute, let us know!

Eggers Grove
Sep 10, 2017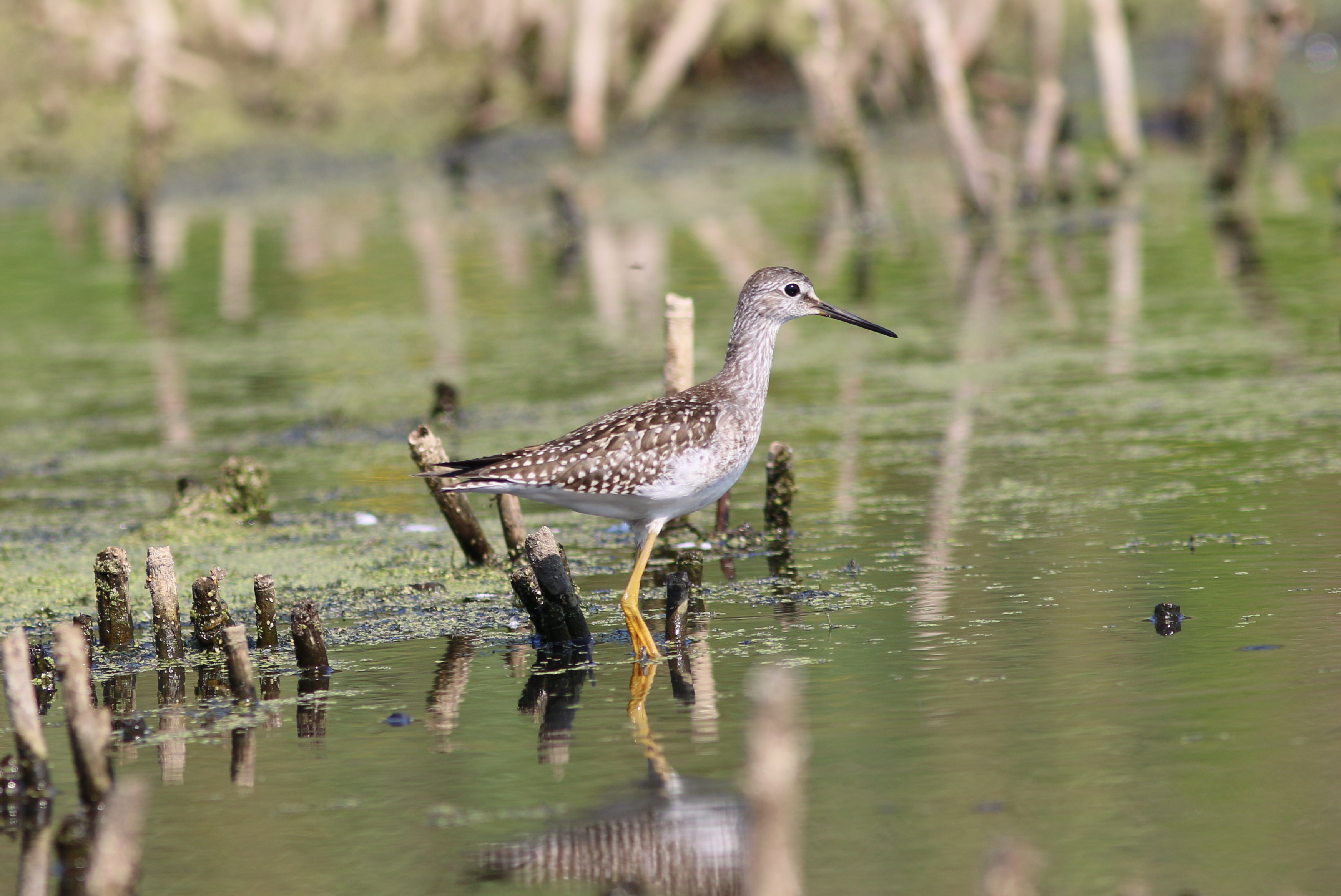 Lesser Yellowlegs by Jake Cvetas
Seven young birders and their parents joined us on Sunday for the Illinois Young Birders' September field trip to the Calumet area on Chicago's South Side. We started at Eggers Grove Forest Preserve, which had a good number of migrants, including 12 species of warblers. We enjoyed good looks at many of them, along with Swainson's and Gray-cheeked Thrushes, a family of Red-headed Woodpeckers, and various woodland birds.
From Eggers we headed to the Skyway Monk Parakeet colony, where the parakeets were as active and noisy as ever.
We then returned south to Hegewisch Marsh, encouraged by Ethan Gylenhaal's report from there on Saturday. We quickly found all of Ethan's top birds, including both Long-billed and Short-billed Dowitchers and Stilt Sandpiper. At times, all three species could be seen in the same scope view. A couple of immature Common Gallinules were also there, and we enjoyed studying the numerous Lesser Yellowlegs and other scattered shorebirds.
A few of us wrapped up the morning at Burnham Prairie, where there was a distant dowitcher and a few peeps. The habitat looks good, so it's worth dropping in a for a visit.
ILYB Symposium
Aug 26, 2017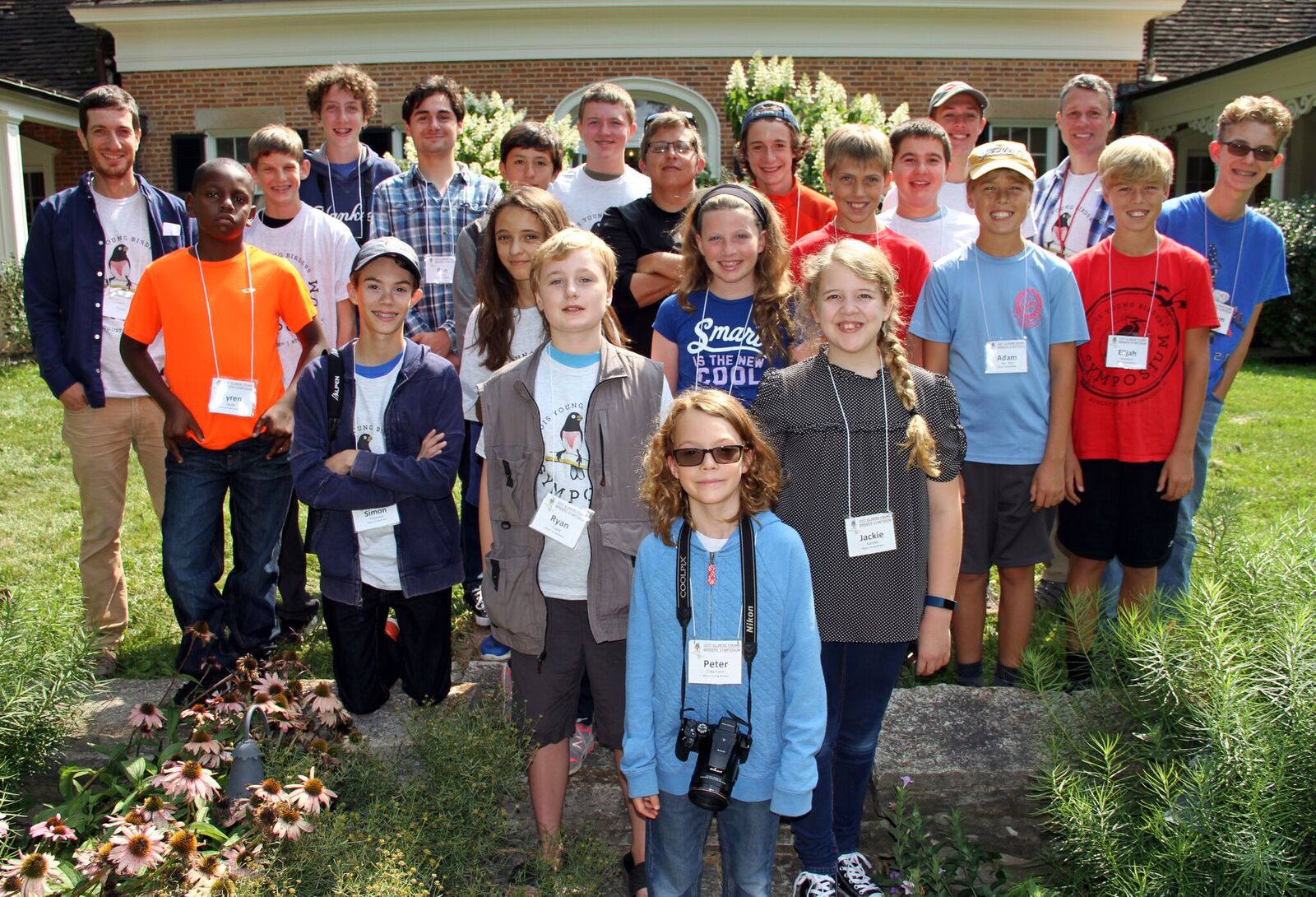 2017 ILYB Symposium by Matthew Tolzmann
On Saturday, August 26th, ILYB held its second annual young birder conference, the ILYB Symposium, a day of birding, young birder presentations and art exhibitions, with guest speaker, Jen Brumfield.
The day started with a brief field trip at Ryerson Conservation Area. A few of the highlights included great looks at a Blue-winged Warbler, a flyover Red-headed Woodpecker, and a distant Olive-sided Flycatcher.
After check-in at The Welcome Center, attendees were treated to presentations by three of our young birders. Andrew Sharp spoke of his work banding birds with the Monitoring Avian Productivity and Survivorship (MAPS) program. Jackie Kuroda educated the crowd on Eastern Bluebird nest monitoring and conservation. Then, Oliver Burrus told of his efforts starting Whimbrel Birding Club.
Nan Buckardt, Director of Education for the Lake County Forest Preserves, followed with her presentation on the Forest Preserve's conservation work along the Des Plaines River at Ryerson, providing suitable habitat for the return of oaks, a keystone tree species in Illinois.
Next on the agenda, everyone moved over to the Brushwood Center, where several young birders exhibited their art work - photography, paintings, and drawings. Attendees enjoyed lunch from Fresh Thyme Market on the grounds of Brushwood Center, while Forest Preserve volunteers displayed education birds, a Red-tailed Hawk and an Eastern Screech-owl.
Back at The Welcome Center, three more young birders presented. Simon Tolzmann explained what birds and dinosaurs have in common. Bret Kasper told of his experiences at The Biggest Week in American Birding. Finally, Eddie Kasper wowed us with pictures of his family's trip to Ecuador.
Wrapping up the day, Jen Brumfield enamored the crowd with stories of how hard work pays off in persuing your dreams.
ILYB would like to thank all of the sponsors that made the ILYB Symposium possible. We hope you'll join us next year.
Goose Lake Natural Area
Jul 8, 2017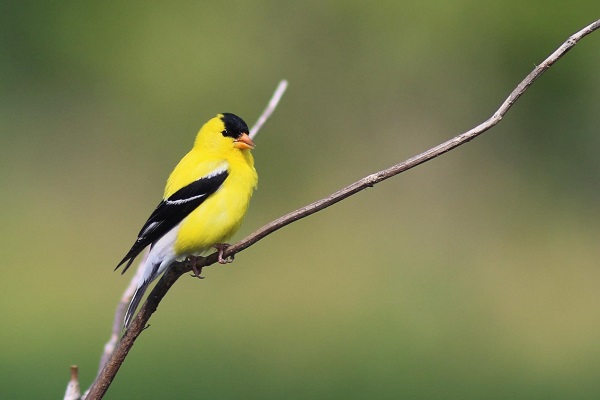 American Goldfinch by Jake Cvetas
Three young birders joined us for our July field trip to Goose Lake Natural Area in search of uncommon marsh breeding birds. Josh Engel led us down the long trail that led to the marsh where we were greeted by a Gray Catbird and a Ruby-throated Hummingbird. Emerging from the forest, we immediately saw dozens of Yellow-headed Blackbirds foraging on the path in front of us, and interestingly enough, most of them were immature birds. We scanned the area and found a few Black Terns foraging gracefully across the surface of the marsh. Continuing on, we enjoyed the songs and calls of both Marsh Wrens and Pied-billed Grebes. A Green Heron flew by and landed in a nearby tree. Hearing the call notes of shorebirds, we look up to see Lesser Yellowlegs, Least Sandpipers, and Solitary Sandpipers descending on a small flooded section of a nearby farm field.
Satisfied, we moved on to our next spot: North Branch Conservation Area. At North Branch, we encountered a nice diversity of grassland birds including Dickcissel, Bobolink, Henslow's Sparrow, Grasshopper Sparrow, Vesper Sparrow, Savannah Sparrow, and Sedge Wren. Turkey Vultures and a Red-tailed Hawk soared overhead. A Ring-necked Pheasant was heard crowing off in the distance. On the walk back to the parking lot, we were treated to the alternate song of a Grasshopper Sparrow. In total, we saw 57 species, a nice total for the month of July in Illinois.
We hope that you will join us for our next event, our 2nd Annual Illinois Young Birder Symposium held at the Brushwood Center at Ryerson Woods! Join us and keynote speaker Jen Brumfield for a day of birding, talks, and celebration of art and photography!
Hennepin and Hopper Lakes
Jun 10-11, 2017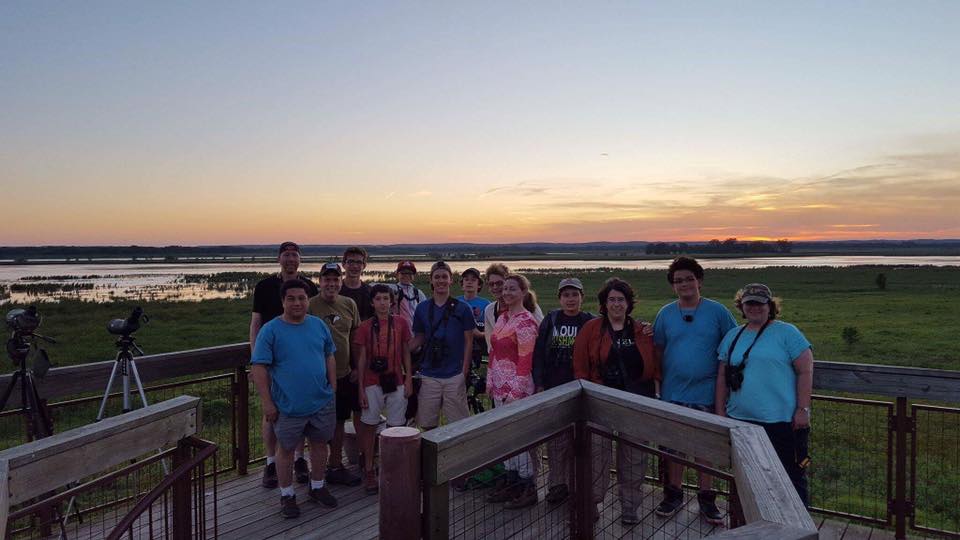 Sunset on the Observation Tower
Nine young birders and their parents joined us for our annual June overnight field trip. This year we explored the Dixon Waterfowl Refuge at Hennepin & Hopper Lakes along the Illinois River in Putnam and surrounding areas in Bureau Counties.
We met at the bunkhouse Saturday morning, our headquarters for the weekend. After a brief orientation, we hiked the relatively new Marquis Oak Ridge Trail well out into the marsh where we found Henslow's Sparrows and Dickcissels in the grasses adjacent to the slough. This was our first time on this trail and the views were spectacular.
After lunch, temperatures soared into the 90s and winds were gusting near 20mph. So, the parents took a brief siesta in hopes that things would cool and calm down a bit later. The young birders on the other hand played soccer, whiffleball, and Pokémon Go to pass the time.
In the late afternoon, we then hiked the Seep Trail. Things started slowly, but picked upon later as we found Yellow-breasted Chat, Lark Sparrow, and a Ruby-throated Hummingbird on nest in an oak tree perhaps 12 feet off the ground.
Later that night, we watched the sunset from the observation tower. A few of us were lucky to see Barred Owl in the twilight. At Putnam County Conservation District, an Eastern Whip-poor-will called briefly. Despite our best efforts and a giant "harvest" type moon, the wind didn't do us any favors and we had to settle for a few brief nocturnal encounters. Later that night, one of the parents in our party, reported hearing Great Horned Owl outside his bedroom window.
We rose early Sunday morning to return to the marsh. A few of us saw Least Bittern flying near the boat launch, while four Black-necked Stilts foraged on a distant mud flat. Back on the observation tower, we counted nine adult Common Gallinules and a handsome Ruddy Duck.
After breakfast, we drove west across the river to explore Miller-Anderson Nature Preserve in Bureau County. There where we navigated around downed trees to find Rose-breasted Grosbeak on nest, American Redstart, Acadian Flycatcher calling near the creek, a Pileated Woodpecker flying down the trail in front of us, and Yellow-billed Cuckoo, ca-ca-cacking..
And finally, after a little assistance from Greg Neise, we found Eurasian Tree Sparrow at "the farm house" south of the town of Putnam. What an amazing weekend we had, racking up 83 species, despite the hot and windy conditions.
Chicago South Side Parks
May 21, 2017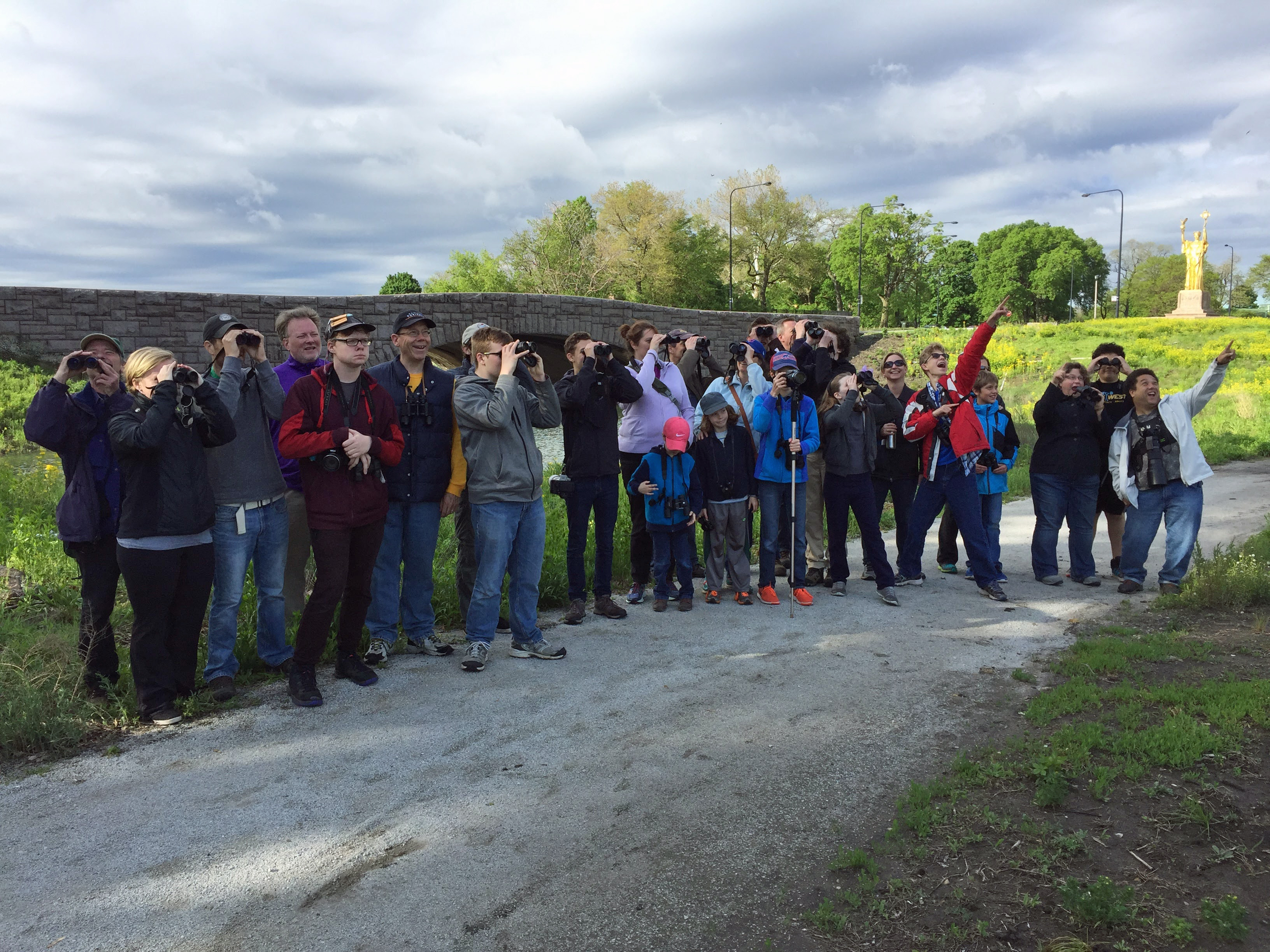 Birding Jackson Park
Thirteen young birders and their families joined ILYB for a chance to bird Chicago South Side parks at the peak of migration on Sunday, May 21st.
We offered an early bird start at 63rd Street Beach where we were joined by Jackson Park birding expert, Paul Clyne. Cliff and Barn Swallows were a constant presence foraging around us, while we explored the beach and dunes. We spent some time looking at the swallow mud nests under construction at the beach house. Spotted Sandpipers were preparing to breed and a few males displayed for females on the beach. Warblers and flycatchers were present in the trees near the parking lot along with Baltimore Orioles.
From the beach, we joined the rest of our party in Jackson Park. We explored the park for nearly three hours spending much of our time on Wooded Island and around the lagoons. We racked up 77 species in total including 17 species of warblers including some real stunners like - Bay-breasted, Blackburnian, Mourning, and Chestnut-sided to name a few. Flycatchers were also present including Eastern Wood-Pewee, Least, Yellow-bellied, and two Olive-sided Flycatchers, one of which made a fantastic aerial loop to catch an insect right in front of us. Apart from that, we found three male Ruby-throated Hummingbirds scattered throughout the park. Paul Clyne informed us that a Swamp Sparrow was on territory at the south end of Bobolink Meadow and sure enough it sang its sweet trill as we passed.
A smaller party then continued onto Washington Park, where we added a few additional species like Wood Duck, White-breasted Nuthatch, and a calling Alder Flycatcher.
Altogether, we found 84 species on the day and what a glorious spring day it was with all the flowers in bloom and the sun shining.
Deerpath Farm
April 23, 2017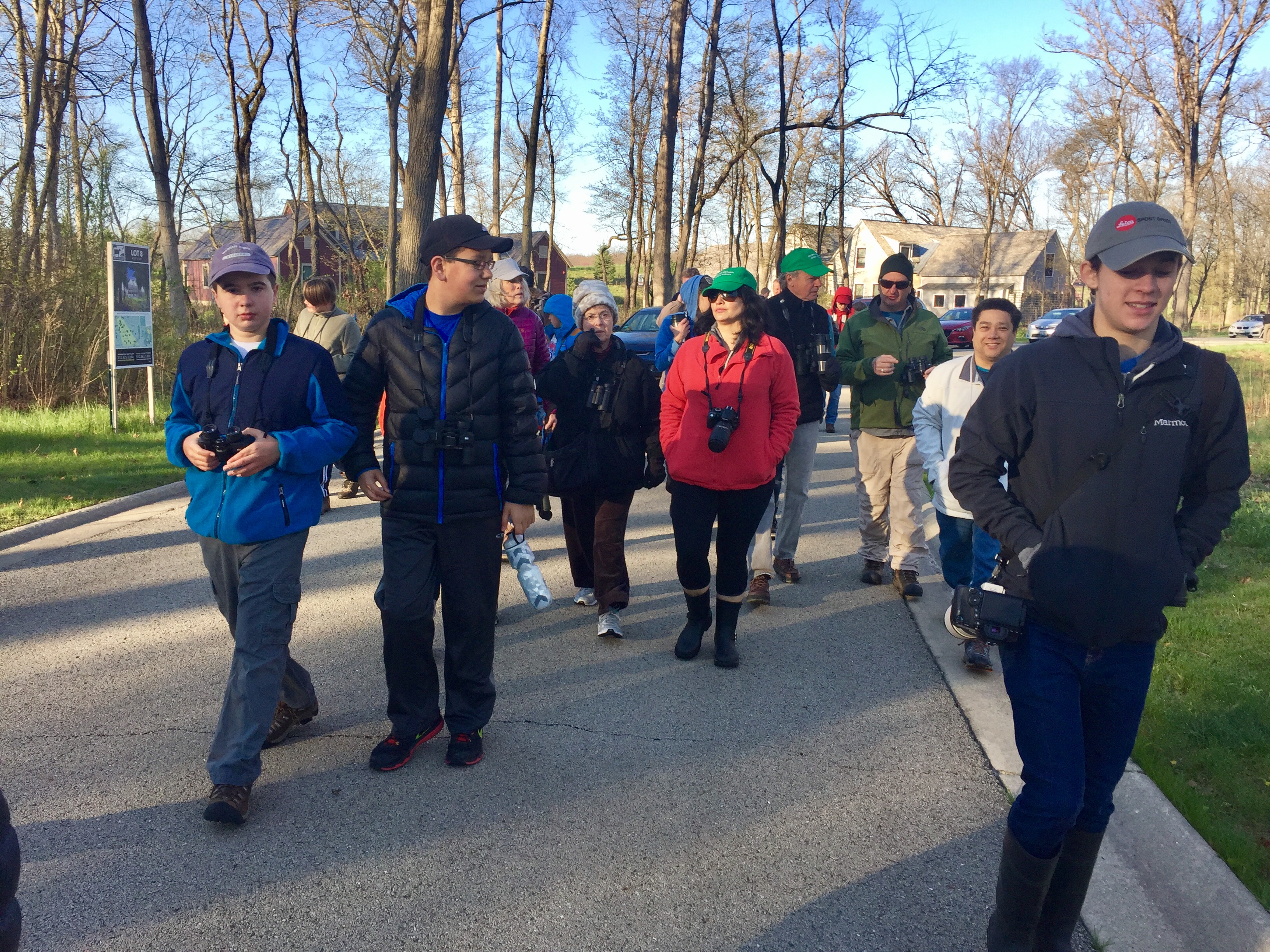 Birding Deerpath Farm
What a turnout this morning for our April field trip! Seventeen young birders, guests, and families joined us at Deerpath Farm in Mettawa in crisp but clear 40F spring weather.
We met at the home of Zach Young, our field trip leader for the day. To start the trip, we warmed up with coffee, juice, and donuts in the drive way, while we got an overview from Rick Phillips on the history of the property. Once working dairy farm, now Deerpath is a developing conservation community featuring 140 acres of open lands. As we began our trip and walked down the road, we found a Sandhill Crane feeding in someone's backyard. As it flew back to a nearby marsh, the first of 7 Sora whinnied. Blue-winged Teal and Mallard were seen throughout the wetlands along with singing Song Sparrows. In the oaks, Blue-gray Gnatcatchers whined overhead and a few Palm Warblers were seen wagging their tails. An Eastern Meadowlark perched atop a tree before coming to the ground, Finally, two Soras foraged on the marsh edges.
After we wrapped at Deerpath, we decided to continue in the warming sun and made our way over to nearby Middlefork Savannah. At Middlefork, more Sora were seen along with a grunting Virginia Rail. A few waders flew around us including a Great Egret and Great Blue Herons. We found six species of shorebirds in the wetlands including both yellowlegs and Solitary Sandpipers.
On the day, we found 47 species.
Starved Rock State Park
March 5, 2017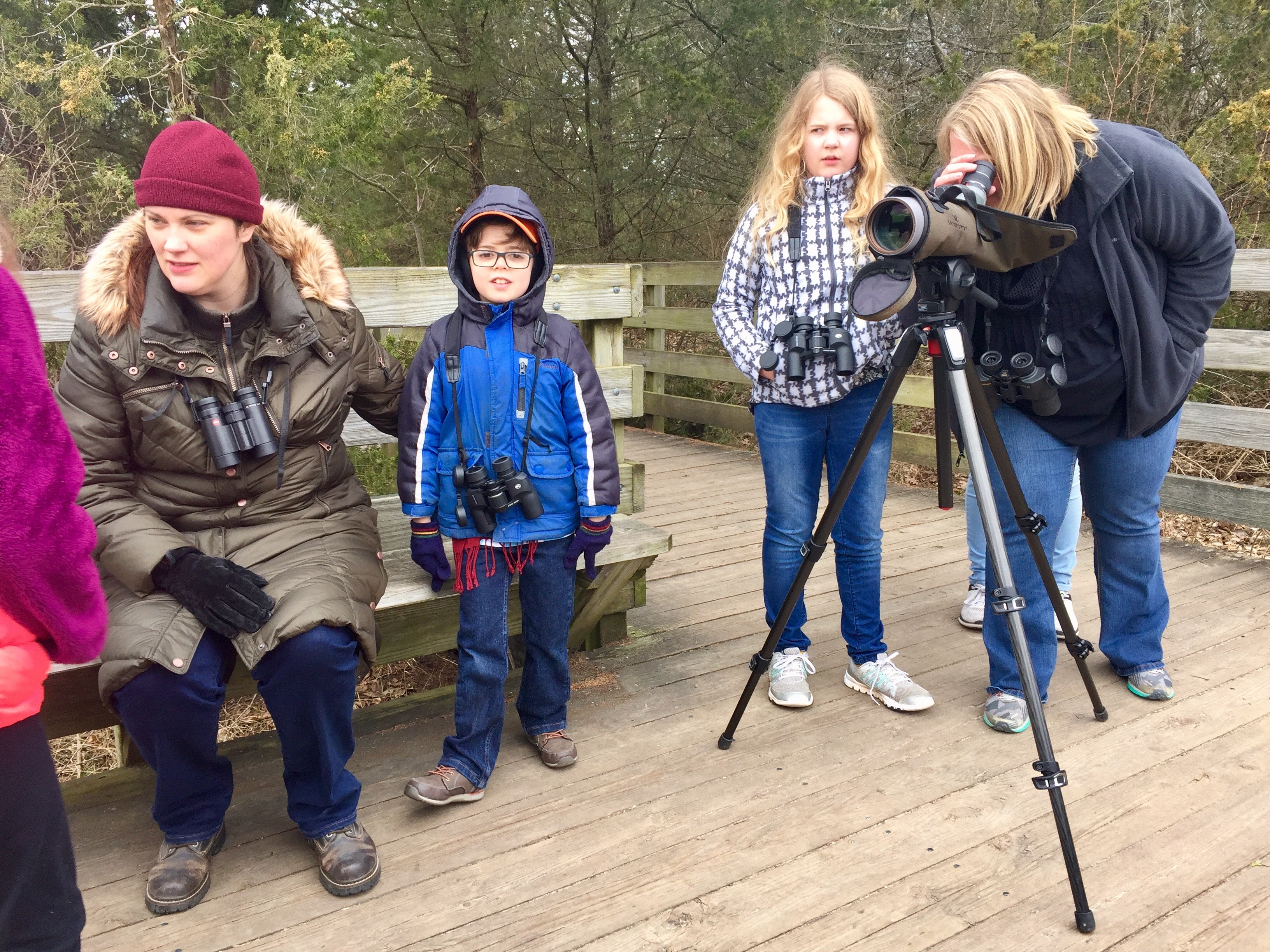 Scoping the Illinois River
Thirteen young birders and several family members joined guest leader, Andrew Aldrich, for a trip to Starved Rock State Park along the Illinois River on Sunday, March 5th. Despite having been hit recently by a tornado, the surrounding area was as scenic as ever and there were plenty of birds to keep us occupied.
We met at the Starved Rock Lock and Dam Visitor's Center and scoped the Illinois River. A couple of Bald Eagles were perched on the far shore and one immature eagle flew down river. From our vantage point, we could see hundreds of American White Pelicans huddled together near the shallow pools and islands that dot the river bed. A large flock of Scaup flew overhead as well.
From there, we went to the opposite side of the river, Starved Rock State Park. Several species were visiting the bird feeders including Red-headed, Red-bellied, and Downy Woodpeckers, White-breasted Nuthatches, Black-capped Chickadees, and Tufted Titmice. We hiked up to the lookout and on our way, we all heard and a few of us saw Carolina Wren and Fox Sparrows and a Pileated Woodpecker flew by. From our vantage point a top the sandstone cliffs, we could see a great distance up river and Golden-crowned Kinglets called in the surrounding junipers. Andrew spotted an adult Sharp-shinned Hawk on the opposite shore. The kids got to study the key field marks of this tricky to ID species. A few kids had a brief look at Yellow-bellied Sapsucker.
We then moved further up river to Lone Point Shelter. From this vantage point, we spotted several species of ducks including Mallard, Gadwall, American Wigeon, Black Duck, Green-winged and a few early Blue-winged Teal.
We decided to cross the street afterward and hike up Illinois Canyon. While it wasn't birdy, the scenery was fantastic. We ended a very successful day at about noon with 44 species having been observed.
Fox River Run
January 29, 2017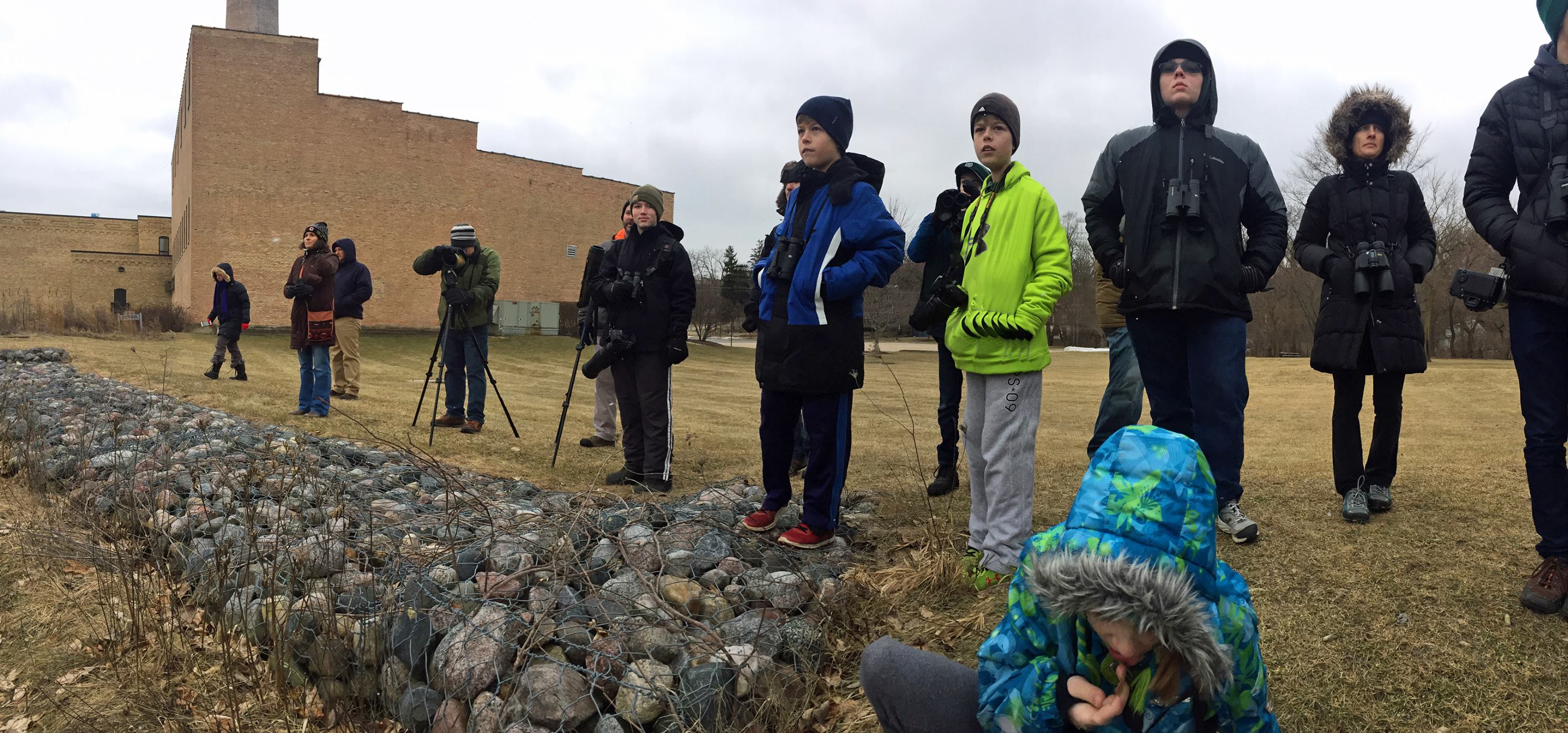 Scoping the Fox River
Everyone met at Carpentersville Dam with guest leader, Scott Cohrs. In the parking lot, Scott heard a Brown Creeper and a Bald Eagle flew over. Once everyone got there, we looked at the river finding a banded Canada Goose (N6Y3) (white numbers on an orange band) and four Greater White-fronted Geese (good spotting by Ethan Ellis) among the hundreds of Canadas. After the excitement of all of the geese, we walked down the path where Matthew Cvetas found the leucistic Common Goldeneye. On the walk back, we found a lone Green-winged Teal, and a perched Bald Eagle.
After a stop at Panera, we went to the Gail Borden Library. There we saw that up the river at Judson there were a lot more Geese. So we made the stop there short.
We drove to a place across from Judson where we found some Cackling Geese and a very cooperative Brown Creeper. We walked up a path, finding the Long-tailed Duck (which has not been seen since Wednesday), another Cackling Goose, and a couple Bald Eagles.
Then we drove down to John J. Duerr Forest Preserve, where the best bird was a low flyover, juvenile Bald Eagle.
-Oliver Burrus
All Content © 2017 Illinois Ornithological Society / ILYB - All Rights Reserved