Field Trip Reports
Read field trip reports and view highlight photos from past trips taken by the Illinois Young Birders Club. Trip reports are written by both young birders and adults. If you would like to contribute, let us know!

Deerpath Farm
April 23, 2017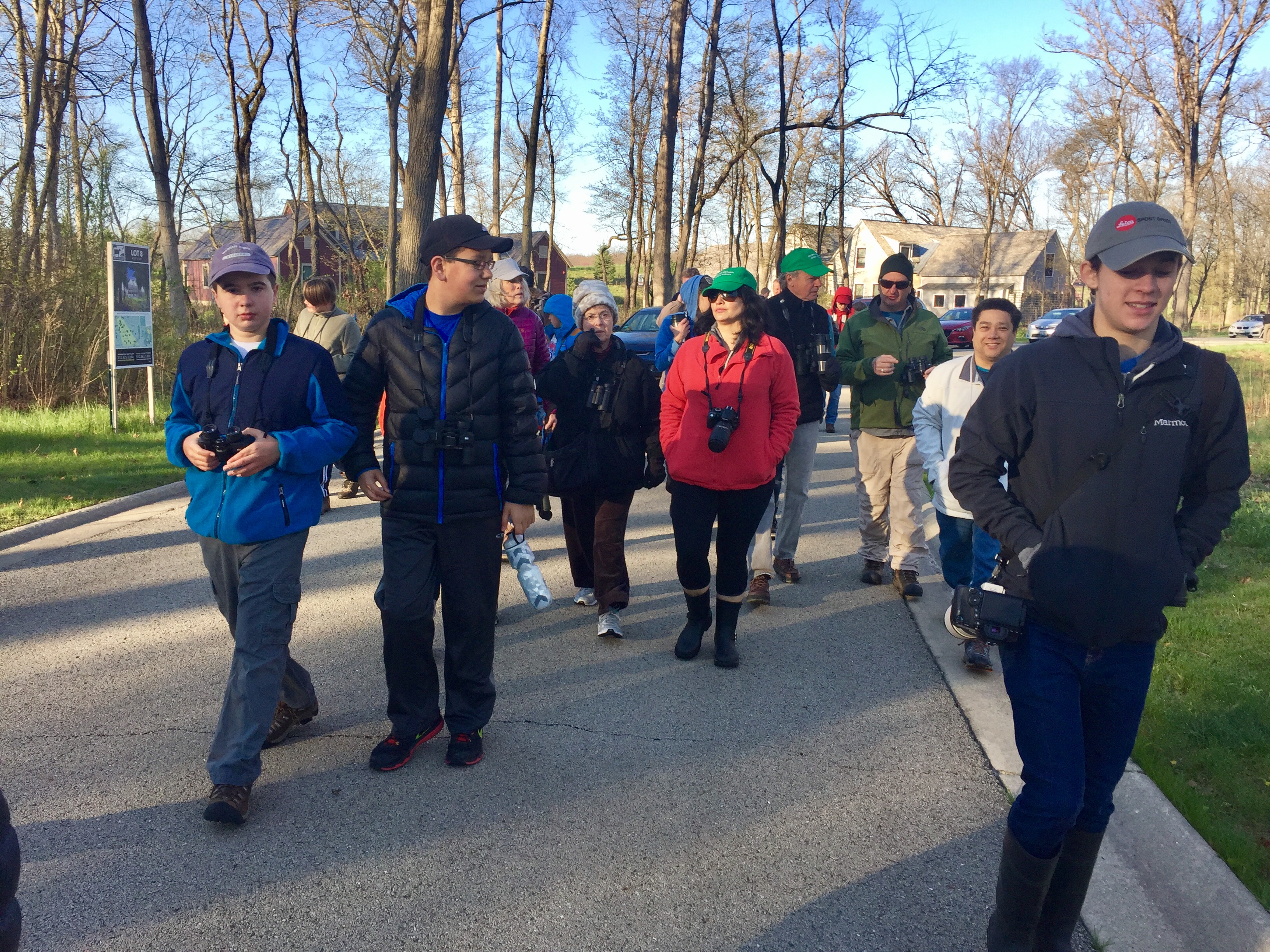 Birding Deerpath Farm
What a turnout this morning for our April field trip! Seventeen young birders, guests, and families joined us at Deerpath Farm in Mettawa in crisp but clear 40F spring weather.
We met at the home of Zach Young, our field trip leader for the day. To start the trip, we warmed up with coffee, juice, and donuts in the drive way, while we got an overview from Rick Phillips on the history of the property. Once working dairy farm, now Deerpath is a developing conservation community featuring 140 acres of open lands.v As we began our trip and walked down the road, we found a Sandhill Crane feeding in someone's backyard. As it flew back to a nearby marsh, the first of 7 Sora whinnied. Blue-winged Teal and Mallard were seen throughout the wetlands along with singing Song Sparrows. In the oaks, Blue-gray Gnatcatchers whined overhead and a few Palm Warblers were seen wagging their tails. An Eastern Meadowlark perched atop a tree before coming to the ground, Finally, two Soras foraged on the marsh edges.
After we wrapped at Deerpath, we decided to continue in the warming sun and made our way over to nearby Middlefork Savannah. At Middlefork, more Sora were seen along with a grunting Virginia Rail. A few waders flew around us including a Great Egret and Great Blue Herons. We found six species of shorebirds in the wetlands including both yellowlegs and Solitary Sandpipers.
On the day, we found 47 species.
Starved Rock State Park
March 5, 2017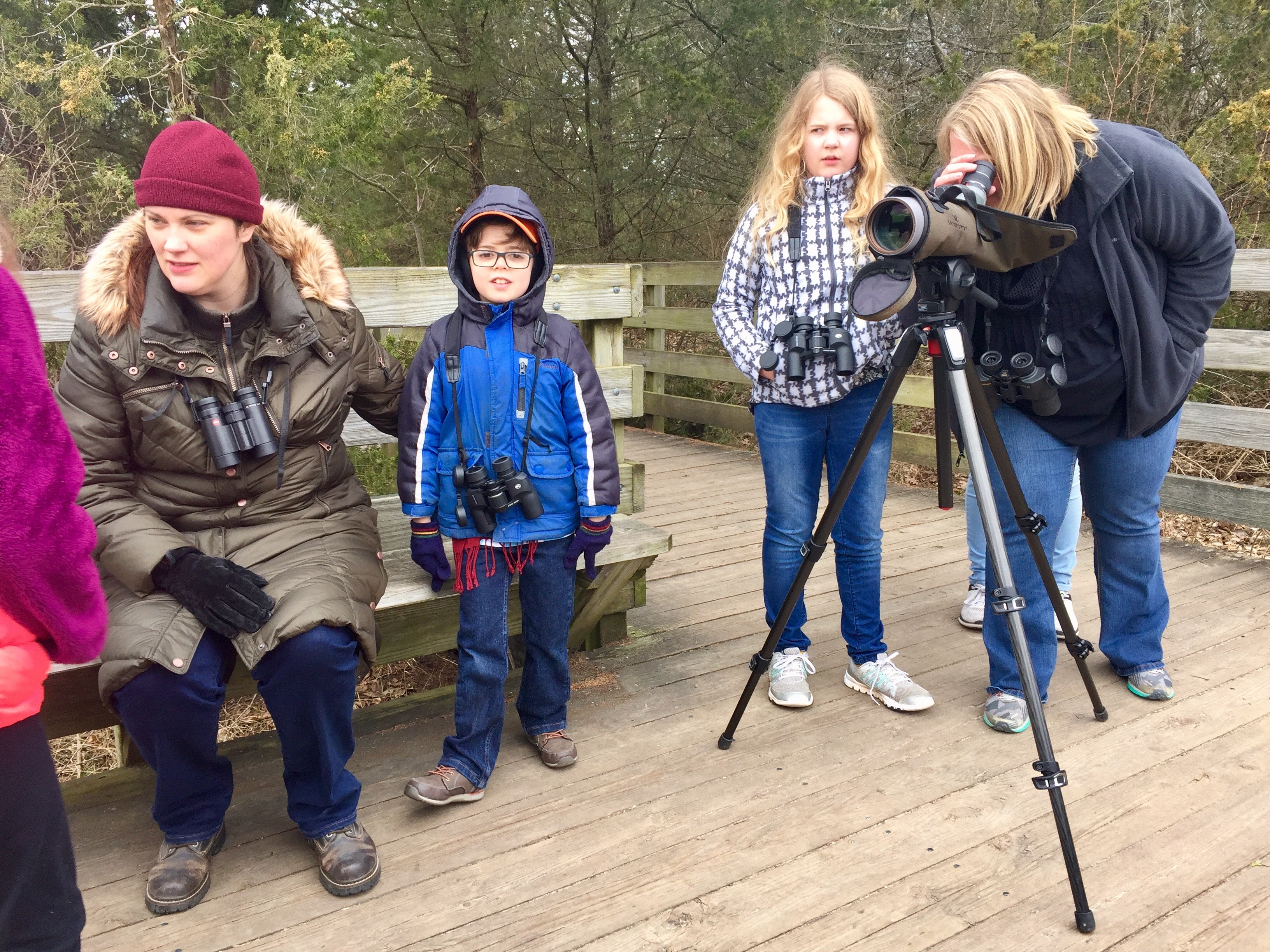 Scoping the Illinois River
Thirteen young birders and several family members joined guest leader, Andrew Aldrich, for a trip to Starved Rock State Park along the Illinois River on Sunday, March 5th. Despite having been hit recently by a tornado, the surrounding area was as scenic as ever and there were plenty of birds to keep us occupied.
We met at the Starved Rock Lock and Dam Visitor's Center and scoped the Illinois River. A couple of Bald Eagles were perched on the far shore and one immature eagle flew down river. From our vantage point, we could see hundreds of American White Pelicans huddled together near the shallow pools and islands that dot the river bed. A large flock of Scaup flew overhead as well.
From there, we went to the opposite side of the river, Starved Rock State Park. Several species were visiting the bird feeders including Red-headed, Red-bellied, and Downy Woodpeckers, White-breasted Nuthatches, Black-capped Chickadees, and Tufted Titmice. We hiked up to the lookout and on our way, we all heard and a few of us saw Carolina Wren and Fox Sparrows and a Pileated Woodpecker flew by. From our vantage point a top the sandstone cliffs, we could see a great distance up river and Golden-crowned Kinglets called in the surrounding junipers. Andrew spotted an adult Sharp-shinned Hawk on the opposite shore. The kids got to study the key field marks of this tricky to ID species. A few kids had a brief look at Yellow-bellied Sapsucker.
We then moved further up river to Lone Point Shelter. From this vantage point, we spotted several species of ducks including Mallard, Gadwall, American Wigeon, Black Duck, Green-winged and a few early Blue-winged Teal.
We decided to cross the street afterward and hike up Illinois Canyon. While it wasn't birdy, the scenery was fantastic. We ended a very successful day at about noon with 44 species having been observed.
Fox River Run
January 29, 2017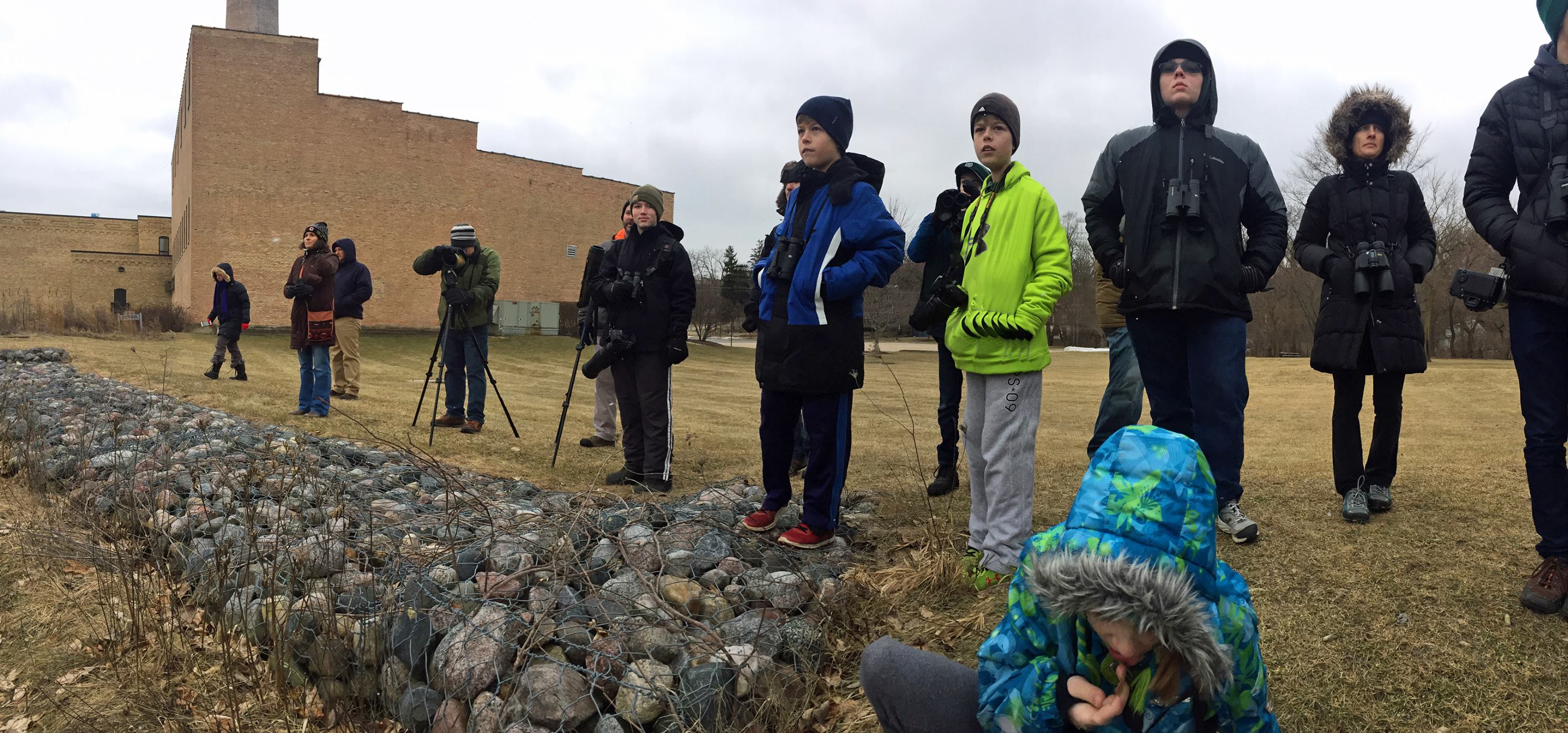 Scoping the Fox River
Everyone met at Carpentersville Dam with guest leader, Scott Cohrs. In the parking lot, Scott heard a Brown Creeper and a Bald Eagle flew over. Once everyone got there, we looked at the river finding a banded Canada Goose (N6Y3) (white numbers on an orange band) and four Greater White-fronted Geese (good spotting by Ethan Ellis) among the hundreds of Canadas. After the excitement of all of the geese, we walked down the path where Matthew Cvetas found the leucistic Common Goldeneye. On the walk back, we found a lone Green-winged Teal, and a perched Bald Eagle.
After a stop at Panera, we went to the Gail Borden Library. There we saw that up the river at Judson there were a lot more Geese. So we made the stop there short.
We drove to a place across from Judson where we found some Cackling Geese and a very cooperative Brown Creeper. We walked up a path, finding the Long-tailed Duck (which has not been seen since Wednesday), another Cackling Goose, and a couple Bald Eagles.
Then we drove down to John J. Duerr Forest Preserve, where the best bird was a low flyover, juvenile Bald Eagle.
-Oliver Burrus
All Content © 2017 Illinois Ornithological Society / ILYB - All Rights Reserved